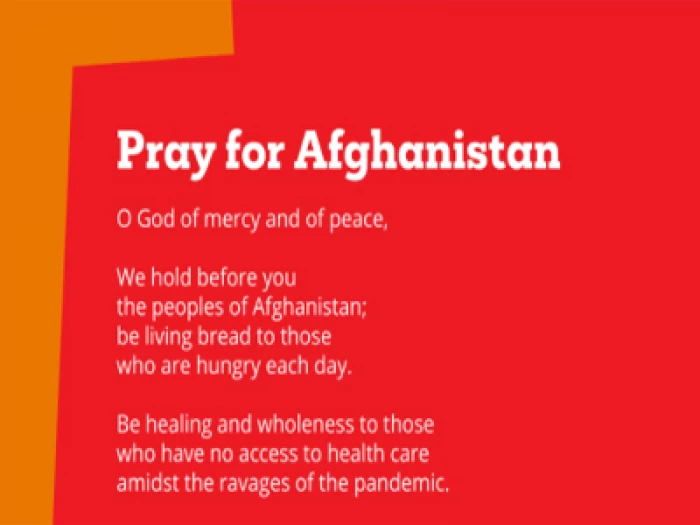 Dear All
Forgive the mass email but there isn't time to communicate this via newsletters and pewsheets, so given the extraordinary circumstances I hope you understand why I have raided my address book.
We have all been filled with shock, horror, sorrow and disbelief by the events in Afghanistan. Many of us of also been deeply saddened by the devastation in Haiti caused by the earthquake. Many of us feel uncertain of how to respond to such situations. Christian Aid has organised an opportunity for us to come together to pray for these two countries on Thursday, which is Afghanistan Independence Day, at 5pm. We will be joined by representatives from several of our sponsoring churches including the CofE Bishop of Manchester and Archbishop Angaelos from the Coptic Orthodox Church. If you would like to join us, please click on the link below to register (obviously there's no fee but because of the nature of online events you need to register to get the link).
https://www.eventbrite.co.uk/e/hear-our-prayer-join-us-in-praying-for-afghanistan-and-haiti-tickets-167329532135
Obviously it's entirely up to you, but I hope some of you will be able to join us, but for those who cannot, I include below a prayer which Christian Aid has produced for Afghanistan
Best wishes
Helen (Christian Aid)
From Naomi Oates
A couple of useful resources for anyone looking to help Afghan refugees resettling in the UK:
The Government has a webpage where you can find opportunities to help in your local area: https://www.gov.uk/help-refugees
Care4Calais is collecting clothes and other essential items. Find your nearest drop-off point here: https://care4calais.org/thedropoffmap/
Churches can join the Welcome Churches Network and be equipped to offer practical support to refugees resettling in their local community: https://welcomechurches.org/churches/join-the-network/
O God of mercy and of peace,
We hold before you the peoples of Afghanistan.
Be living bread to those who are hungry each day
Be healing and wholeness to those who have no access to health care amidst the ravages of pandemic
Be their true home to all who have been displaced
Be open arms of loving acceptance to those who fear because of their gender, ethnicity, religious or political views
Be peace to those engaged in armed conflict and those who live within its shadow.
Turn our hearts and minds to your ways of just and gentle peace,
Open our eyes to see you in all acts of compassionate care
Strengthen our hearts to step out in solidarity with your suffering people and
Hold us all in your unfailing love.
We pray in the name of Jesus Christ, who emptied himself of all but love in order to bring life in all its fullness.
AMEN

Helen Judges
Business Manager, CEO's Office
From Christian Aid Facebook page https://www.facebook.com/christianaid