Gravesend Methodist Church
Saturday 21 February
7.30pm
Tickets £5 (in advance or on the door)
"Wonderful evening with poignant songs, lovely sound, instrumental and voices"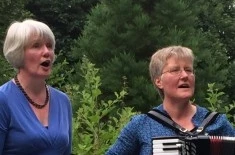 Fiddle & Faff is Christine Adams (Revd Tony Graff's wife) & Lis Bayford. Christine sings and fiddles on a number of instruments (not at the same time!) whilst Lis sings and faffs!
Fiddle & Faff's music is mostly drawn from the folk tradition, peppered with other influences that take their fancy and encompasses songs and tunes from the lyrical and lovely to the toe-tapping and quirky. With fiddling on various instruments from Christine and vocals and faffing from Lissie, they create performances that are entertaining and engaging.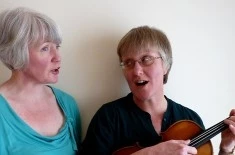 email: hello@fiddleandfaff.com