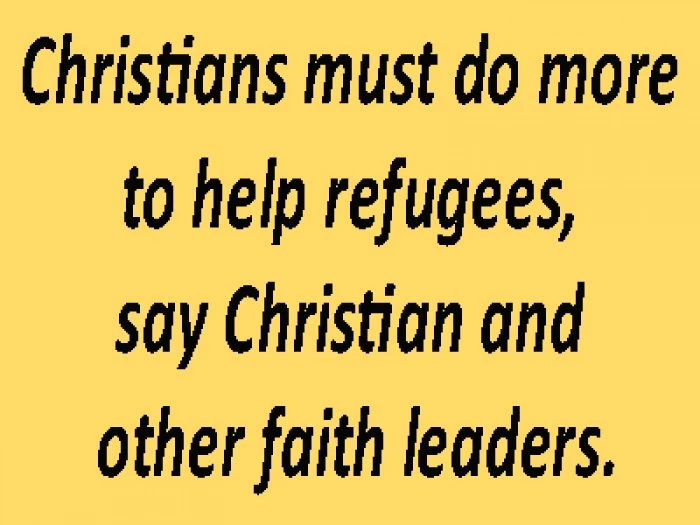 Britain must do more to help refugees, say Christian and other faith leaders

A former Archbishop of Canterbury heads a list of more than 200 religious leaders who call for more refugees to be admitted into the UK.
In a letter to Prime Minister Theresa May, Christian leaders join Buddhist, Hindu, Jain, Jewish, Muslim, Sikh and Zoroastrian leaders to call on the UK Government "urgently to revise its policy towards refugees" in the face of human catastrophe.
Headed by former Archbishop Rowan Williams, now in the House of Lords, the leaders include Bishop Angaelos, General Bishop of the Coptic Orthodox Church, Baroness Neuberger, senior rabbi of the West London Synagogue, and Harun Rashid Khan, secretary-general of the Muslim Council of Britain.
In the letter they say that the best of Britain is represented by the "generosity, kindness, solidarity and decency" shown to those fleeing persecution.
They cite an Amnesty International survey which earlier this year showed more than eight in ten Britons would welcome refugees into their neighbourhoods and households.
In particular, they call for safe, legal routes of travel to allow refugees who have made it to Britain to be reunited here with their families.
Under the present immigration rules, a British doctor of Syrian origin could not bring her parents from a refugee camp in Lebanon, even though they were refugees and she could support and house them.
A Syrian child who arrived alone in the UK could not bring his parents from a refugee camp in Jordan, even if the child were recognised a refugee and his parents were themselves refugees.
"Families in these situations can currently be reunited only by resorting to desperately unsafe irregular journeys, sometimes ending in avoidable tragedies," the religious leaders say.
The UK should take a "fair and proportionate share of refugees, both those already within Europe and those still outside it," they add.
The call for "safe and legal routes to the UK" to be set up.
"All our faiths teach us to alleviate suffering and share with those in need; many of our members and congregants are already active in helping refugees. We call on the Government to do more."
The UK looks likely to meet its target to take 20,000 Syrian refugees by 2020, Home Secretary Amber Rudd said last week. The UK has also pledged to take 3,000 unaccompanied child refugees.