Weekly Circuit service: details of this week's service and archive of previous services
Worship from home Sunday 10.30am
CCLI streaming licence 941812
Numbers at services so far have ranged from 137 to 317 with views after reaching 1059; our congregation is growing and is based around the UK, in Portugal, Africa, USA and Australia. There are still technical things to think about and we will continue to work on these. Please do tell (email) your minister or Martin Smith if you have helpful observations
You can do this using the CONTACT PAGE
It is now possible to access the service by phone, instruction sheet can be downloaded here >>>>
Please share this information with those you know who do not have online access by arranging for them to have a paper copy of the guidance.
It has been suggested that another way to share the service with those without Internet access is for a friend to watch online and use their phone to relay the service.
November 1 Robert Zachar
November 1 pm Remembering service- a service to remember lost loved ones, particularly those who have died this last year led by Bonni-Belle-Pickard
November 8 Third Avenue with Robin Selmes
November 15 Hartlip with Robin Selmes
November 22 Ann Matthews
November 29 David Hinchliffe
December 6 Gill Le Boutillier-Scott
December 13 Bart Woodhouse
December 20 Bonni-Belle Pickard
Tips
YouTube clips of hymns may be suggested. It can be difficult to switch to these whilst watching the service. We suggest loading them in separate tabs BEFORE the service so you can switch windows easily or load the service sheet in a separate tab and link from there. You may wish to cue them up before the service so you can skip adverts.
Some people found it useful to ask Alexa (other digital assistants are available) to play the hymn or to play the hymns on a second device.
Service sheets will be available on the right of this page >>>>
We will try to publicise the live-stream by Facebook or other means but this page will always be the most up to date source, sometimes last minute changes may need to be made.
If you don't have access to the Internet or there are technical glitches , simply use the service sheet at home, knowing you are sharing with friends across the circuit.
Some people find the "chat" disruptive during the service, it may be possible to turn the chat box off.
If you are a Pastoral Visitor, please ensure that those in your care have access to the information in this note and the service sheet (either by sending them an email or posting a copy through their door).
It is suggested that we may feel more part of the worshipping body of Christians if we light a candle during the prayers of intercession, knowing that our friends around the Circuit are doing likewise

Archived Services

Service sheets for archived services are HERE

Playlist of all archived services: HERE
October 25 Eddie Vincent: (there will be pre-Service singing from 10.15) LINK HERE Fast forward to about 22:30 for the start.
October 18 Naomi Oates LINK HEREFast forward to about 21:10 for the start.
October 11 Vic Downs LINK HERE Fast forward to about 30:10 for the start.
Links to previous services : HERE
Methodist Central Hall library: HERE
Christchurch, Luton: CCL Live HERE On Sundays, we are joining together virtually to worship at CCL Live. Library HERE
CHINESE SERVICE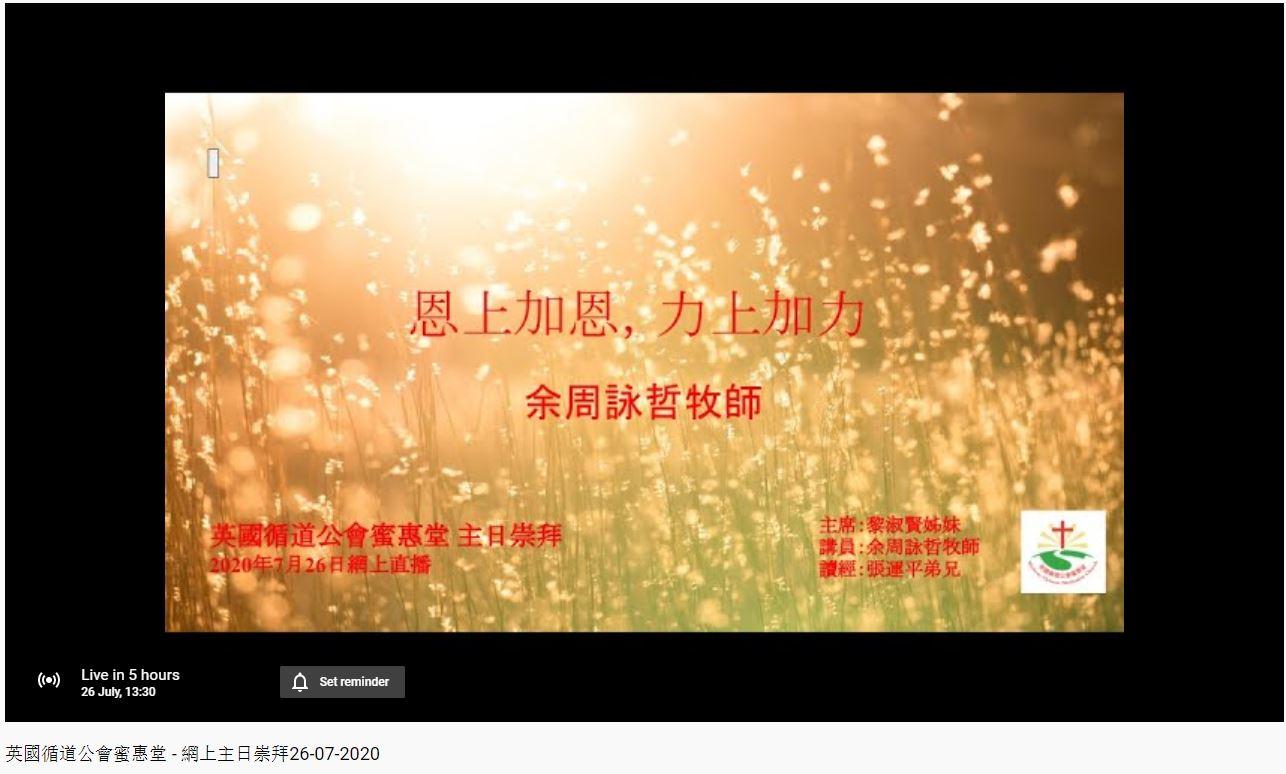 Click HERE
MCMC YouTube channel: https://www.youtube.com/channel/UCsHazLXSmdJ92k-ORTAXRNw