Christmas Eve and Day — Carol services and other — About Christmas — Christmas reflections 2015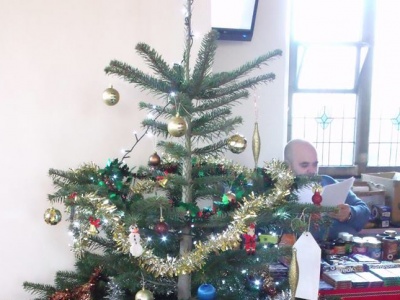 "A Great Gift" — Tony Graff
A woman went into a church. It was not for any religious reason, she was just sheltering from the rain. In the church she met the Vicar. He was middle aged with thinning hair and even when he was in mufti he still managed to look like a Vicar. She looked at him and to her complete astonishment she realised that she was beginning to fall in love. Okay, so it was fiction, but you can imagine why I might applaud a story where a fairly unkempt minister of religion could appear to be attractive or even a surprising cause of passion. The book, for anyone who is interested, is "Case Histories" by Kate Atkinson; you might have seen the television adaptation earlier this year. The woman, Caroline, starts going to church. The description of her reaction to the sermon is interesting. It says, "He didn't mention God very much, which Caroline was grateful for, and he rambled a bit, but the general tenor of the piece was that people should all be nicer to each other and Caroline thought, fair enough, and the ten people in the congregation, including Caroline, all nodded genially at this message."
That sounds a bit familiar. There are many who do not feel comfortable with too much talk about God. There may still be some truth in the old quote, "The average Englishman goes to church as he goes to the bathroom; with as little fuss and as little explanation as possible." Methodists have been described as those who will speak about their faith if someone asks them; but they don't tend to be asked; and actually they prefer it that way. I'm not sure if this is quite fair, but I suppose that it contains a grain of truth. Certainly those who lead Methodism are today saying that it is "Time to talk of God" and for evangelism to become our priority.
Some draw back from this. Many of us have bad experiences of evangelism. I shiver at some of the insensitive activities in which I was involved when I was young. I'm also not happy with the idea of evangelism as a kind of recruitment drive for the institution of the church, with the aim of getting extra bodies to do the jobs, to put cash in the collection plate, and to keep the organisation going. But that would be evangelism at its worst. Isn't it possible to find something else which is evangelism at its best?
For me evangelism is about offering God and his love. Certainly this means talking to people about our faith and experiences of God. But it also includes engaging in the struggle for justice and peace, and it is also a part of the worship we offer, particularly, when we share the bread and wine in which Jesus graciously gives himself.
Some might say, "What gives you the right to raise yourself up to be the one to offer God and his love to the world?" And I agree that would be hugely arrogant of us, except that God himself commissions us to the work. God wants to give himself, and asks us to be the channels through which he is given.
The Christmas season, that we are approaching, is a time for recognising God's longing to give himself, which he does through Jesus. As John's Gospel puts it, "For God so loved the world that he gave his only Son, so that everyone who believes in him may not perish but may have eternal life." And then in one of John's letters it says, "God's love was revealed among us in this way; God sent his only Son into the world so that we might live through him."
God delights to give himself and his love. He calls us to be the channels through which he is offered so that the world might come to know his life, which is life in all its fullness.
What a great commission for the Church to share with God in his work. What a great gift we are called to offer to the world.
Christmas Eve and Day — Carol services and other — About Christmas — Christmas reflections 2015